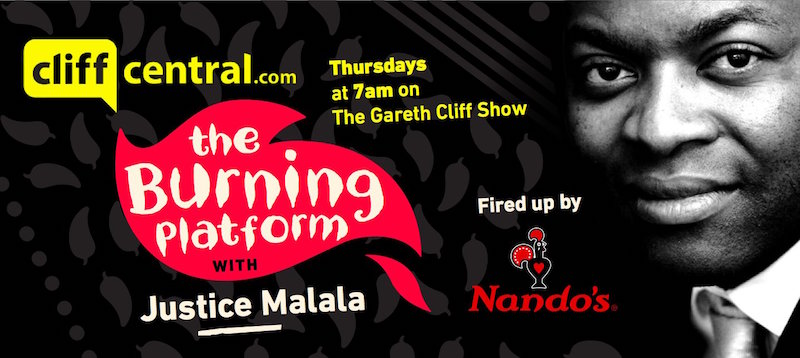 South African politics is anything but boring. From Julius Malema and his Economic Freedom Fighters calling for the president to "Pay Back The Money" to the jamming of the cellphone signal in Parliament, our politics unfold as if every day is an episode of House of Cards. For many, SA politics are scary. For others, they are the thrilling growing pains of a new democracy. What should you make of them?
Justice Malala – renowned political commentator, newspaper columnist  and TV host – joins The Gareth Cliff Show every Thursday at 7AM for The Burning Platform, brought to you by Nando's. Both Justice and Gareth are well known for their straight, uncompromising views and they tackle the big stories of the week, dissect what the big trends in politics are and point you to what the future holds for South Africa and the continent.
Malala brings his expert but light and humorous touch to give you insight into SA politics. Who succeeds President Zuma? What is the future of land policy? Who are the people to watch? Political Faux Pas of the Week? These and many other questions are answered in Malala's inimitable humorous style as the week's stories are analysed.
---
Twitter:
@justicemalala
5 Feb 2015 – Interview on The Gareth Cliff Show:
Journalist and political commentator Justice Malala is obsessed with the news… he pops in to chat to us and brings some fascinating insights and experiences.
Brought to you by Nando's