Listen in to The Gareth Cliff Show every week for a chance to win!
The winner will receive an app for either Johannesburg & Pretoria, Durban or Cape Town depending on where they live. Johannesburg and Pretoria winners will get an additional voucher for a Taste Buds cooking course.
Download the app and get a 30% discount! Here's how:
– Go to theentertainerafrica.com
– Click on BUY PRODUCTS
– Enter promo code CliffCentral before checkout
---
The Gareth Cliff Show – 28 April 2016: Vusi vs Vernaard
Vusi makes his grand return to try and win with the Entertainer App, he goes up against Vernaard who also thinks that he has what it takes. Meanwhile Mike Flax explains how he has been benefiting from the Entertainer App, saving money and looking good in front of his girlfriend at the same time. If you too want to buy one and get one free at restaurants, day spas, hot nightspots, hotels and more, then download the Entertainer App and begin to #ExploreYour City.
---
Futurology – The Entertainer
Hang with Nikki and Mike from the Entertainer as they talk about real value as well as how to make your money go further in the digital consumer age.
---
The Gareth Cliff Show – 21 April 2016: Taryn vs Vusi
Taryn from Dubai believes that her Cape Town-based brother is costing the family too much money in food and entertainment. Meanwhile, Pretoria-based Vusi is also looking to save up to R1.2 million per year. This is why Taryn and Vusi go head-to-head in a competition to win the app that will solve their financial woes and ensure their social lives live on. If you too want to buy one and get one free at restaurants, day spas, hot nightspots, hotels and more, then download the Entertainer App and begin to #ExploreYour City.
The Gareth Cliff Show – 14 April 2016: Layton vs Louise
Loyal listeners Layton and Louise go head-to-head in trying to name the artist and song provided by Gareth Cliff. The winner of which receives a one year subscription to the Entertainer App worth R495 per year, which allows you to buy one and get one free at restaurants, day spas, hot nightspots, hotels and more. If you also want to save up to 1.2 million Rand a year, then you need to get the Entertainer App.
The Gareth Cliff Show – 31 March 2016: Ben Karpinski & Giveaway
Find out how you can save using the Entertainer App worth R495 that allows you to buy one and get one free at restaurants, day spas, hot nightspots, hotels and more. On this edition, sports lover Ben Karpinski tries out the App, let's see what he thinks. Also hear from lucky winner Mike who was the recipient of the Entertainer App for this episode.
The Gareth Cliff Show – 24 March 2016: Interview with Mike Rich & Giveaway
Country Manager for The Entertainer – the app that allows you to explore more of the local cities you love, yet save money while doing it – Mike Rich, explains how it works and why you simply have to have it. Gareth Cliff and the team then try to give one away to a caller… which proves to be more difficult than expected!
---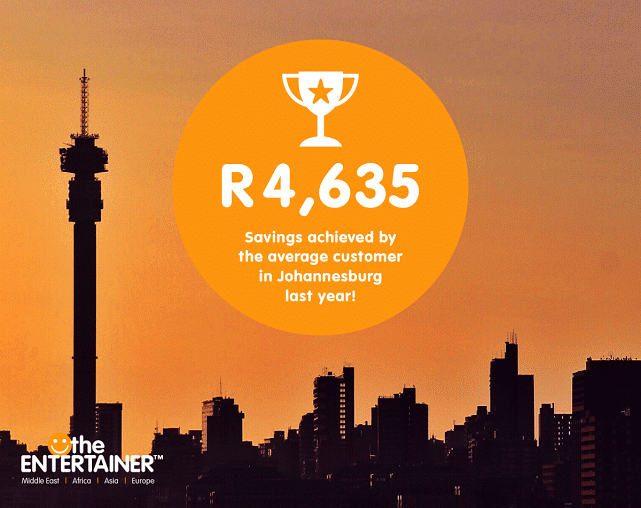 The Entertainer has launched their range of 2016 products – Entertainer Cape Town 2016, Entertainer Durban 2016 and Entertainer Johannesburg & Pretoria 2016 – containing thousands of Buy One Get One Free offers for the best restaurants, cafes, nightspots, attractions, leisure activities, sports, spas, beauty salons, wellness centres, hotel accommodation and so much more.

Founded in 2001, the Entertainer provides Buy One Get One Free incentive offers from well-known dining, leisure, entertainment, beauty and hotel brands across the Middle East, Asia, Africa and Europe. Packaged together and published as market-specific books and now as award-winning App, the Entertainer has enjoyed phenomenal growth by virtue of a strong partner network, a burgeoning corporate loyalty business and a broad base of delighted customers. Today, the Entertainer offers 45 products across 40 destinations in 15 countries.
Terms & Conditions:
These rules relating to the competition comprise its official rules (the "rules") and, together with official competition communications by the Entertainer Africa, shall govern and apply to all participation and activity arising out of and relating to the competition.
Please take a moment to review these rules, which, by your participation, you agree will govern all aspects of your relationship with the competition, the Entertainer Africa and competition-related agents. These rules cannot be modified or superseded except by the Entertainer Africa, in its reasonable discretion, in a written revision to these rules posted on the Entertainer SA Facebook and Twitter profile or, at the Entertainer's sole discretion, other potential official competition communication methods reasonably determined to reach a majority of potential participants.
Participation
1. The Competition is open to legal residents of South Africa aged 18 years or over who have a valid South African Identity Document.
2. The Competition starts on 24 March 2016 and will run until 30 April 2016.
Entries
1. Entrants must call into CliffCentral during the competition and answer the questions asked on the show.
2. The caller that gets the most answers right will win the prize.
3. Entries that are unintelligible, incomplete, damaged or defaced will be deemed invalid. No responsibility will be accepted for entries lost, delayed, corrupted or damaged in transmission.
4. Prizes are limited to one prize per entrant for the duration of the competition.
The Competition & Prizes
1. A total of 5 winner will be chosen over a duration of 7 weeks.
2. The winners will each receive a prize hamper consisting of an Entertainer app relevant to their city.
3. The winners of the Prize will be told immediately on the show.
4. Entrants agree that their names and Facebook or Twitter profiles may be used and published by the Entertainer for marketing and promotional purposes in any form of media without restriction.
5. In the event that any winner cannot be successfully contacted following all reasonable attempts to do so, the Entertainer reserves the right to disqualify such winner from the competition and to draw another winner instead.
6. The prizes are not transferable, non-refundable, non-exchangeable (where applicable) and cannot be redeemed for cash.
The Winners accept the following terms and conditions of the Entertainer on CliffCentral:
a. The prizes and all items included in a winner's respective prize package may not be redeemed for cash;
b. The winner will have their prize couriered at their chosen address.
General
1. The Entertainer reserves the right to terminate this competition immediately and without notice. In the event of such termination, all winners agree to waive any rights that they may have in terms of this competition and acknowledge that they will have no recourse against the Entertainer Africa, its advertising and promotional agencies, distributors and their respective employees.
2. This competition shall not be open to the Entertainer employees and their family members.
3. The Entertainer reserves the right to cancel or alter any aspect of the competition at any time at its sole discretion without liability
4. The laws of the Republic of South Africa govern this competition and the use of the Entertainer Africa's websites and online platforms.