010 271 0100  |  

www.iconnecttelecoms.com
iConnect SA (Pty) Ltd started in 2004, focusing on innovation and skills development in the information and communication technology sectors, with specific emphasis on the Corporate and SME markets. From Internet Connectivity to Voice and Cloud Platforms to the latest Information Technology (IT) Solutions and more, iConnect ensures maximum uptime and productivity.
Our seamless solution has been designed to effectively manage your communications, so that you never experience disconnection. This is the foundation on which additional technology solutions are layered – all delivered by a single solution provider.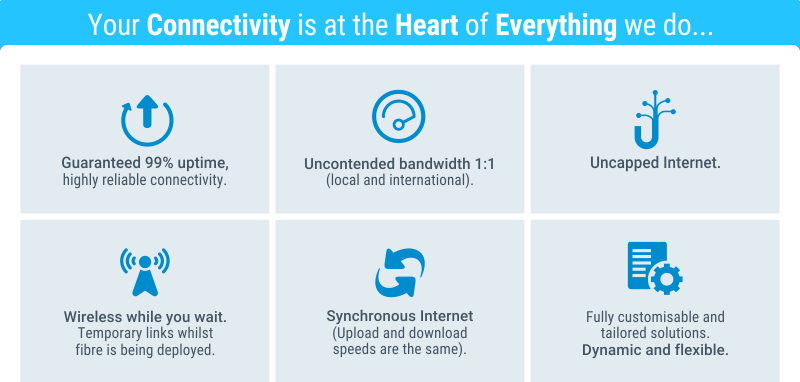 iConnect for Business
iConnect offers your business internet connectivity that is faster and more reliable without ever having hassles with "traffic congestion" or network downtime.
iConnect offers your business the benefit of having a dedicated point of contact, who can effortlessly update and customise your current services. Our round-the-clock monitoring systems pro-actively analyse, assess and prevent potential disruptions to your network, before you're even aware of it.
Fibre broadband is the fastest internet connection available today. With it, you can transfer large amounts of data quickly and seamlessly. This means that whether you're watching a movie on Netflix, or video chatting with family in Europe, your connection will be smooth and fast (provided they're on fibre too).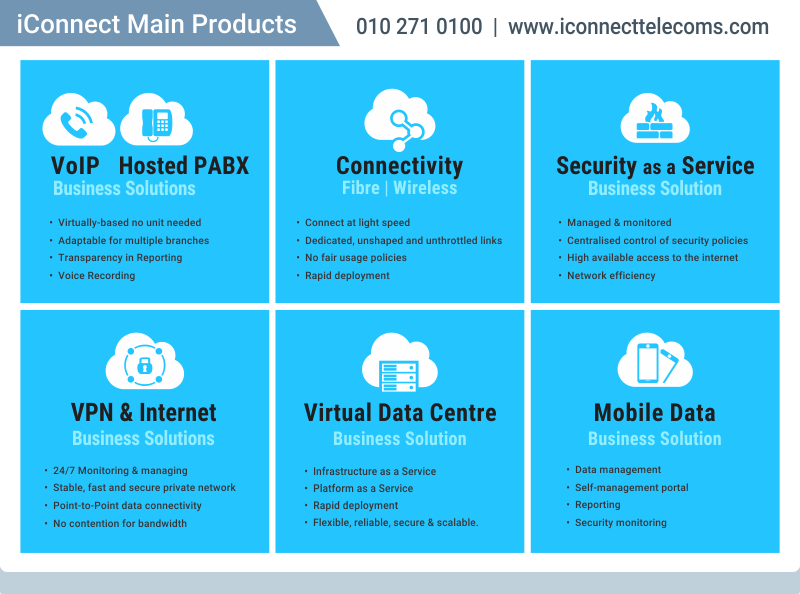 ---
Calvin Collett, CEO of iConnect Telecoms, discusses the growing importance of high-speed Internet connectivity, and the main reasons why you may not be realising the full potential of your connection speeds.
---
Brett Lindsay speaks to CEO of iConnect Telecoms, Calvin Collett, about unified communications using voice and data. Having a single service provider means costs are far easier to analyse and understand. By bundling voice and connectivity, the concept of 'fixed costs' can be introduced, which ensures there are no 'nasty billing surprises'.
---
Rare Diseases SA was established as a support group to fill the void of dedicated support for patients and their families confronted by the diagnoses of a rare condition. Calvin Collett, CEO of iConnect Telecoms formed strong ties with Kelly after hearing her remarkable story. Calvin believes that in order to receive, one needs to give back to society and his friendship with Kelly resulted in iConnect choosing Rare Diseases Society of SA as their Corporate Social Responsibility project.
---
Calvin Collett – founder and CEO of iConnect – shares some important lessons learned whilst growing his business into an end-to-end provider: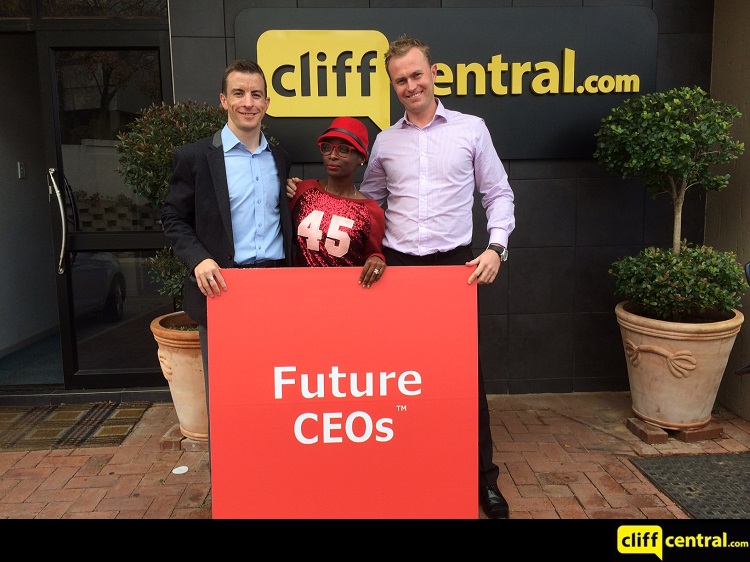 (Visited 32 times, 1 visits today)