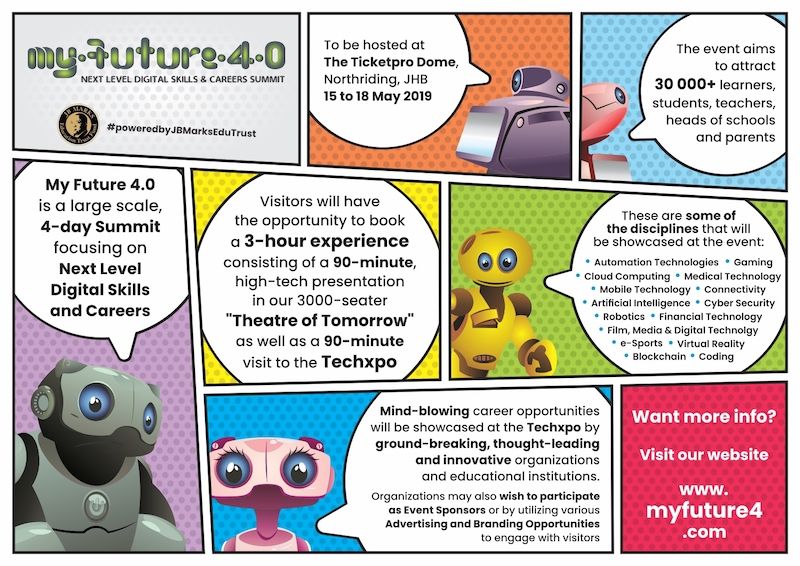 South Africa's first next level digital skills and careers summit took place between 15 and 18 May 2019 and CliffCentral.com was there! Changing the game in showcasing the digital skills needed to thrive in the careers of the future, Gareth Cliff and Siya Sangweni broadcast live daily from the Ticketpro Dome.
The 4th Industrial Revolution is not just a buzz word. It is changing the face of almost every sector but many students and graduates are unprepared for what it will bring and how it will affect their career choices.
From tools and technologies to support digital education as well as future employers of choice, the My Future 4.0 Summit engaged with exhibitors across the business sector.
The Summit showcased career options and the future of coding, 3D printing, nano tech, artificial intelligence, robotics and digital design as well as those in medicine, mining, the arts, music and much more.  There were also daily presentations and talks from industry leaders to influencers, tech junkies and trend analysts. The 4-day event aimed to prepare students, parents, post- graduate students and even those already employed in a highly interactive environment.
Find out more information by visiting myfuture4.com, or hear our very own Siya Sangweni chatting to some of the attendees of My Future 4.0, from various schools, here:
Visitors also got a unique opportunity to spend time with expo brand ambassador, Pepper, South Africa's first humanoid robot, who was available for a chat or a selfie!

Or listen to the podcast of Gareth Cliff's chat with Pepper the robot here:

(Visited 17 times, 1 visits today)