Join Gareth Cliff as he hosts Buskaid in Concert – a performance
in aid of the ASHA Trust for early childhood development.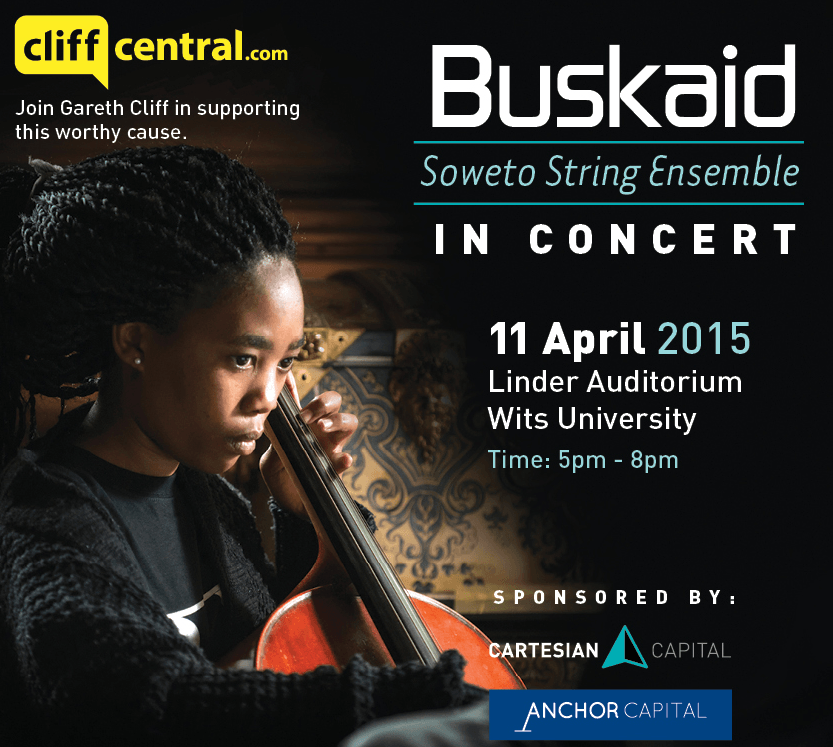 CliffCentral.com's founder, Gareth Cliff will host a special benefit concert in aid of the ASHA Trust for early childhood development on Saturday, 11 April 2015 at the Linder Auditorium, Johannesburg. Tickets for this unique, once-off concert featuring the internationally acclaimed Buskaid String Ensemble are on sale at Computicket, for just R180 for adults and R125 for children.
While Cliff is popularly known as the provocative judge of Mnet's Idols television show and an outspoken radio personality, he is a keen supporter of the work of education organisations like the ASHA Trust for early childhood development. In inviting Joburg's music lovers to join him for a night that promises a vibrant musical programme with something for everyone, Cliff emphasises that: "We should all be doing something within our means, to campaign for quality education. This benefit concert is about leveraging the entertainment value of the world renowned Buskaid String Ensemble to raise awareness about the importance of enhancing preschool education for children in underprivileged communities. I encourage everyone to come out for an entertaining evening in support of the ASHA Trust's work."
ASHA Trust Chairperson, Dr Tshepo Motsepe is equally excited about the event: "This concert is a wonderful opportunity for us to connect with the public in a social setting that will hopefully inspire all who attend. Unfortunately, millions of South African children still do not have access to quality preschool education. Support from private companies like Cartesian Capital and Anchor Capital – joint sponsors of this event – as well as the public, enable us to continue our efforts to improve the quality of ECD programmes accessible to vulnerable children."
To be part of this special event, get your tickets now at computicket.com. Find out more about ASHA Trust for early childhood development by visiting www.ashatrust.com or find ASHA Trust on Facebook.
Event on Twitter: #Buskaid4ASHA
Gareth Cliff Show interview: