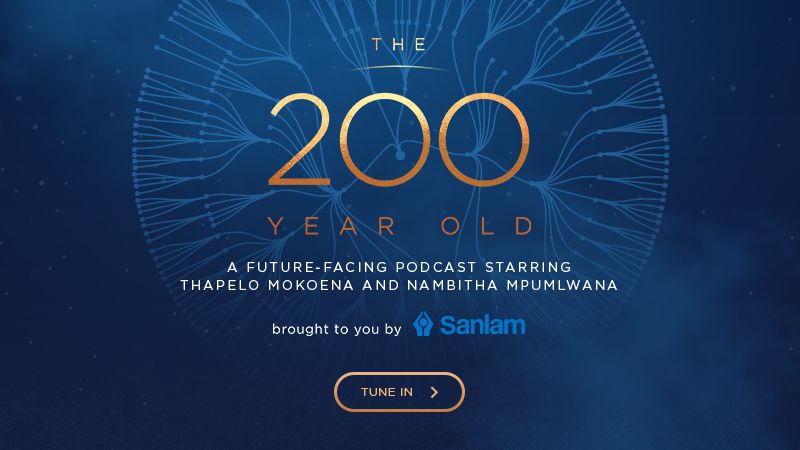 What if you were told you were going to live to 200 years old?
As Sanlam turns 100 they are looking ahead to the future. The 200 Year Old is a future facing podcast based on leading science and expert opinion.
Based on leading science and expert opinion, and featuring the voices of Nambitha Mpumlwana and Thapelo Mokoena, it's the story of Lesedi Ndaba told in the year 2218. It's a podcast that pulls back the curtain to the world of the future.
Listen to The 200 Year Old here:
---
Episode 1: Health and Science
Imagine living to 200, but not being really old for 100 years. Think about not feeling a day over 30 for 150 years. Nonsense? Well The 200 Year Old is here. Gareth Cliff and the team discuss what it would be like to live to 200, and how – with the help of science – it could become a reality:
---
Episode 2: The Financial Dilemma
Could you save enough money to survive for 200 years? And would you have to work forever, or will money not feature in the future? Gareth and the team bring in Anthea Gardner to explore how one can begin to plan for a future one can't even imagine right now:
---
Episode 3: Marriage & Relationships
Ever wondered how our personal lives would be affected in a society where ageing is cured? Relationships would be much more complex, family gatherings will certainly be larger, and marriage contracts probably won't include 'till death do us part'. Gareth Cliff chats to SexTalk host Jonti Searll about how relationships would look if we were to live up to 200:
---
Episode 4: Society
When we're no longer time-starved, will we be less stressed? When we can watch a tree grow over centuries, will witnessing the consequences of our actions make us more responsible? Will we be able to fill our extra years with purpose, or will we become bored? Gareth and the team have a conversation around how much society and its culture would change if we started living longer.
---
Interview with Dr Aubrey de Grey: Medical Technology & Ageing
"People in middle age now have a fair chance" – that's what Dr Aubrey de Grey believes as he continues to work towards finding the cure to ageing. As the Editor-in-Chief of Rejuvenation Research, Fellow of both the Gerontological Society of America and the American Ageing Association, Dr de Grey is also perhaps the world's foremost advocate of the provocative view that medical technology will one day allow humans to control the ageing process and live healthily into our hundreds – or even thousands. Gareth Cliff dives into his mind to find out more.
---