Duke Corporate Education (Duke CE) hosted its annual Davos of Human Capital 2019 event on 11 July in Johannesburg, South Africa as an exploration of the intersection of humanity, technology, the future of work and leadership, against the backdrop of unprecedented change and transformation.
The one-day high-impact conference brought together more than 500 senior leaders and HR professionals from across Africa with the goal of defining the future for business in an era of artificial intelligence (AI) and digital disruption.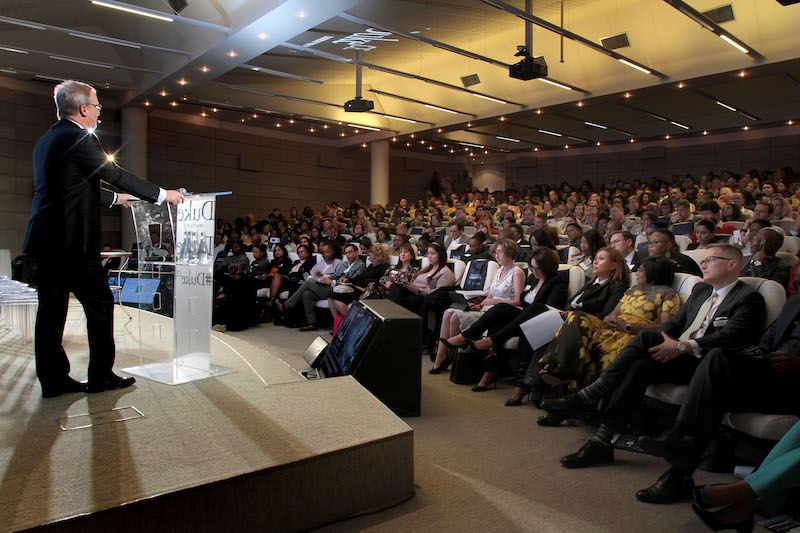 This year's conference offered a robust line-up of new ideas, fresh insights, cutting-edge solutions, and best practices for any organisation or industry affected by digital disruption. Understanding how to thrive through digital transformation, identifying new trends, and harnessing the value of technology were in sharp focus throughout the programme as panelists and local and international speakers led discussions on the latest approaches to building human-centred leadership strategies for a better world.
Among the many speaker highlights was Minister of Communications Stella Ndabeni-Abrahams who outlined the South African government's various initiatives for enabling Fourth Industrial Revolution technologies, and Nedbank CEO Mike Brown who offered a unique perspective on how meaningful collaboration between humans and machines can influence better outcomes.
The Davos of Human Capital 2019 also featured a special appearance by Sophia the Robot, the world's first-ever humanoid robot citizen, and her creator David Hanson, PhD from Hanson Robotics.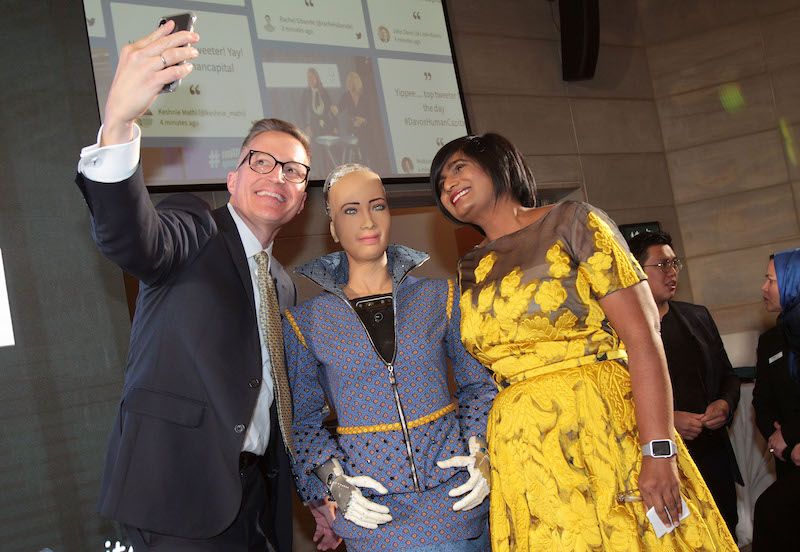 As innovation and adaptability become ever more critical, Timothy Maurice Webster sat down with some of the thought-leaders at the conference to find out what they think is necessary to prosper in this new era of disruption in a two-part podcast series "The Power of Human Capital".
A two part series exploring the future of human capital, pioneered by and in collaboration with Cliffcentral.com and Duke CE. With Brain and Brand Author, Timothy Maurice Webster as host, this series seeks to uncover through Duke CE's leadership lens, what it will take for leaders to thrive in a complex era where artificial intelligence and humans find occupy the same leadership space. You'll hear from Duke CE thought leaders from around the world as well as South Africa's top HR talent- along with a number of surprises from talented executives about they plan to apply the human centric leadership learning. The conversations were hosted at the 2nd Davos of Human Capital Conference.
Part one features:
Adam Kingl, Duke CE Europe (2min 23secs)
Jeremy Kourdi, Duke CE London (13min 53secs)
John A. Davis, Regional Director for Duke CE Asia (18min 10secs)
Conference delegates (23min 14secs)
Mbali Magudulela, Sibanye Still Water (28min 58secs)
Anne-Valerie Corboz, Managing Director Education, Asia (Design Thinking/SHIFT) (30min 13secs)
In part two of The Power of Human Capital Series, Timothy Maurice Webster continues his insights and learning mission by interviewing more global Duke CE thought leaders, South African human capital thought leaders, partners in the Million Young Minds Project and the conference host- Sharmla Chetty, Duke CE's President, Global MD, Europe and Africa.
Part two features:
Ed Barrows, Managing Director, Designing & Delivering programs for global clients (1min 14secs)
Wendy Y. Feher, Advisory and Client Programming, London (5min 56secs)
Beth Ahlering, Managing Director, London (10min 27secs)
Nkanyiso Dlamini, William Mpofu, Co-Founders e-Mfundi, MillionYoungMinds (13min 22secs)
Veona Watson, Nedbank, Executive Head HR Strategy for Group Finance Cluster (20min 10secs)
Sharmla Chetty, President & Head of Europe & Africa (22min 56secs)
Thato Belang, Duke, Program Director, South Africa (28min 33secs)
Sandra Da Mata, MultiChoice, South Africa (29min 30secs)
How can you shape the interaction between humanity and technology in a way that enables humanity to build a better leadership for a better world? Find out more by visiting www.dukece.com, where you can also catch up on more event highlights and photos too.
(Visited 46 times, 1 visits today)