Follow the SuperSport Official Account on WeChat for a chance to win great prizes with #RWC… (scroll down for more info)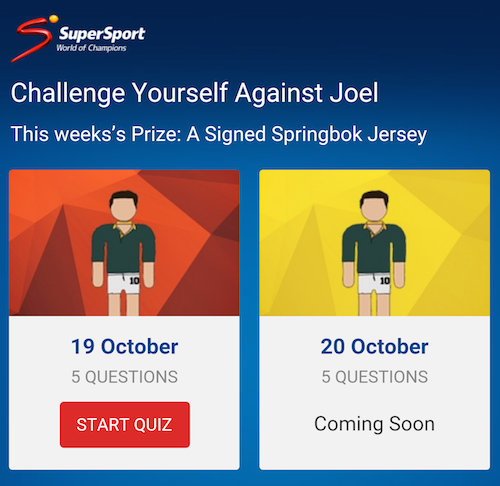 Listen to the Gareth Cliff Show team play the quiz on air:
Tuesday 13 October – Gareth introduces the #RWC SuperSport Quiz on WeChat by playing live on the show. How does he do, is his rugby trivia knowledge as good as Ben's?
Wednesday 14 October – The WeChat rugby quiz with SuperSport sees Ben being put on the spot during his sports report. Gareth tests his Australian rugby smarts, see if you can match his score today!
Thursday 15 October – Confident to beat Ben, an avid rugby fan calls in to participate in the WeChat SuperSport rugby quiz. Can Ben Karpinski be beaten? Listen here to find out…
Friday 16 October – It's Ben vs Gareth as the WeChat SuperSport #RWC quiz is now in the hands of Joel Stransky. Ben is confident he'll win again and Gareth hates to lose… so what will happen?
Monday 19 October – With Ben Karpinski on a winning streak after his accurate predictions of the #RWC quarter-finals, Gareth Cliff decides to test him again on the WeChat SuperSport Quiz. Ben is predictably… unstoppable! Gareth shares a story about bumping into a legendary Springbok in Cape Town.
Tuesday 20 October – Gareth Cliff chooses the team members with the least amount of rugby knowledge to play the WeChat SuperSport #RWC Quiz – Michael Flax and Siya Sangweni-Fynn. They both make some lucky (and unlucky) guesses…
---
Prizes:
There are 7 prizes to be won. Each week we will be giving away either a Sprinbok jersey signed by the entire 2015 World Cup Team, worth approximately R10 000, or a signed Springbok Opus book signed by the 2015 World Cup Team, worth approximately R15 000.  The overall grand prize is a Rugby experience to the value of R100 000! (More info here).
How to Play and Win:
There's a new quiz every day of the week.
Test your rugby knowledge on each week's topic and answer 5 questions a day. The more days you participate, the higher your score will be as we count all your quizzes for the week.
Each quiz is out of 5, which gives you the opprtunity to have a score out of 35 in any week.
Note that should you wish to get even more points, you may share your daily quiz which gives you an extra point each day. The person on top of the leaderboard at the end of the week will win the weekly prize.
How to be entered into the Grand Prize Draw:
In order to be entered into the grand prize draw and win the grand prize, you will need to complete at least one quiz throughout the 6 weeks. Each time you complete a quiz on the SuperSport Official Account, your name will be added to the grand draw, e.g. if you answer one quiz, your name will be in the draw once. If you answer the quiz everyday for 6 weeks your name will be in the draw 42 times.
Click here for Terms & Conditions.